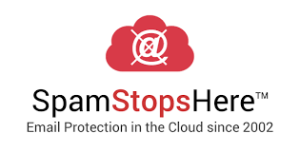 Email Spam and Malware Protection for Business powered by SpamStopsHere™
"FREE 30 DAY TRIAL"
Premium Spam Filter with Zero-Hour Virus Protection
Stop spam and malicious email (viruses, trojan horses, Cryptolocker, etc.) in the Cloud, before they damage your business. SpamStopsHere™ provides superior protection from email threats, even for the most demanding customers who cannot afford to lose email; like attorneys, doctors, hospitals, financial firms, manufacturing and your business.
SpamStopsHere blocks 99.5% of spam with fewer than 0.001% false positives and comes with our brilliant 24/7/365 live support. It is a "set it and forget it" email blocker with nearly 100% customer satisfaction.
A Better Way to Block Spam
Without the Hassles of Outdated Bayesian Heuristics
Traditional antispam doesn't prevent you from looking at spam. All that time and money you spend tuning filters and checking spam folders has turned your spam problem into an anti-spam problem.
SpamStopsHere is different. It does not rely on unpredictable "Bayesian Heuristics". Our proprietary filters, live 24/7/365 threat analysis and global updates every two minutes provide superior email threat protection for our customers worldwide.
Easy Setup and Fast ROI
Full email threat protection with no learning period
Because it's Cloud-based, SpamStopsHere integrates seamlessly with your business email service or server (including Office 365, Exchange, Google Apps for Business and more). Our 24/7/365 live threat analysis team updates our database of spam profiles every few minutes, tracking spammers and predicting their next move.
Our customers quickly realize they have little or no need to check their spam folders; saving them time and money, and protecting them and their businesses from becoming victims.
CONTACT US today for a FREE 30 Day Trial!